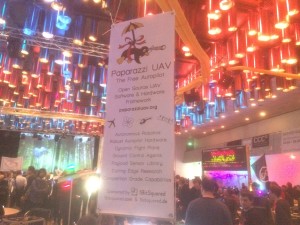 Here is a short review of our Paparazzi UAV meet up at the 32C3.
For those of you who have never heard of the Chaos Communication Congress, it is a hacker conference that takes place every year between Christmas and New Year's Eve in Germany. For many years it was held in Berlin, but with the increased attendance a larger venue was needed, it is now being held in Hamburg, Germany.
Most people arrive in Hamburg on the 26th of December for day 0 of the conference. We met our assembly in the large Hackcenter hall. EZ who helped organize lodging for a lot of us also found and reserved tables for us. Usually it was the CCC organizers who were reserving the tables for the so called Assemblies. This time they did not do that for any Assembly with less than a 100 members. This shows how big the event is getting.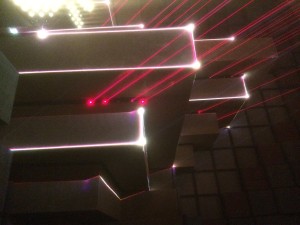 During the conference we spent a lot of time talking about the future of the Paparazzi project, and making plans for how we can improve things. We had quite a busy table with 30 Paparazzians and friends. People were assembling their airframes and flying them for the medias amusement. We were interviewed by ARTE, the French German culture TV station and a few other media outlets. We are not sure when and where our footage will air, but we will post it here when it does. If you see it on TV, please let us know. 🙂
As always Felix (our tireless maintainer) was very busy merging and improving the Paparazzi UAV codebase. One of the more exciting developments is the improved python ivy bindings. Making the implementation of ground agents in python easier. Additionally, stay tuned for some awesome announcements from Hooperfly who organized his own CCC hackathon in Portland, OR as he could not make it to the real thing.
We also met a lot of old friends, from projects like Sigrok and UAVP-NG. As well as making new connections to projects like Yosys and IceStorm. Formally verified FPGA based autopilots anyone?  🙂
As always, an event like this is incredibly inspiring and productive. We hope you will join us next year to be part of the event.
We will keep you posted if there are any other events where you can meet other Paparazzians. And also let us know if you know of any Paparazzi related events or meetups worth mentioning here, just drop us an email at: press at paparazziuav.org