The International Micro-Air Vehicle Conference and Competition was held last week in Beijing, China, organized by the Beijing Institute of Technology and the National University of Singapore.
As usual, the level of the teams involved in the competition is higher year after year and we had a great show. The team from the MAVLAB of TUDelft was participating to both indoor and outdoor session. During the outdoor, they unfortunately couldn't show their best due to many communication issues, preventing them to fully use their RTK Bebop2 (and also some regressions in Paparazzi code, hum hum… 🙁 ).
The next day, the indoor team did its best to perform well. And despite the difficult tasks to pick up and drop objects, they tried hard until the end. It was worth the effort as they reached the 3rd place of the competition, a few points ahead the Spanish team of Madrid (CVG-UPM)! We could almost call it a draw as both team really did their best with great spirit.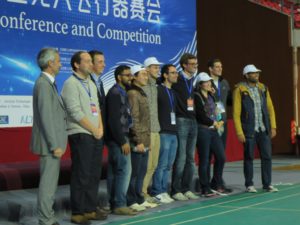 But, this was not their only great achievement. The paper Control of a hybrid helicopter with wings by Christophe De Wagter and Ewoud Smeur received the Best Paper Award of the conference for their work on the control issues raised by the novel design of the Delftacopter and the solution they found to solve them. Congratulation to them and all the team involved in the Delftacopter!