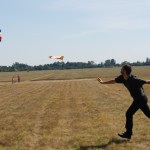 MAV 07 was yet another great success for the project! Paparazzi teams took 1st, 3rd, 4th, and 5th places in the outdoor autonomous surveillance competition and were honored to share the 1st place award with the very well designed Micropilot-equipped 48cm Ping Wing from Linköping University in Sweden.
The first Paparazzi helicopter, Twisted Logic proved that a passively stable helicopter could operate well in mild outdoor winds and also took 2nd place in the indoor competition, surpassed only by the "Father of passively stable helicopters", world famous Petter Muren of Proxflyer and BladeRunner fame.
The team of Christian Lindenberg and (fake) Martin Müller also won the special award from the jury for it general performance and fair spirit.